Visits
NOW BOOKING 2017 – 2018 VISITS!
(To check availability and receive additional information, email HERE.)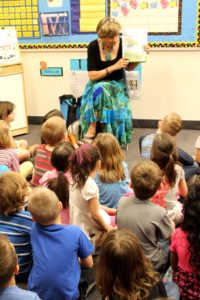 I'm delighted to visit schools and events as an author, speaking either to large assembly-sized or smaller class or grade-level groups. As a former teacher, my favorite subjects were reading and writing. I loved poetry, too, and wanted kids to find delight in words and the sounds of language as much I did! I now write full-time, but still enjoy sharing my love of books and poetry with students. Inspiring and encouraging young readers and writers is some of the most important work I do.
My presentations are tailored to meet the goals of your school. Assemblies last from 30 to 45 minutes and include a digital slide presentation, student participation, and props. The most effective groupings for assemblies are K-2, 3-4, and 5-6, though every school has its own requirements and I can adapt to any grouping.
Small group workshops or "Meet the Author" sessions can last anywhere from 30 minutes to an hour and can be tailored to meet your needs. Below is a sampling of the types of presentations I've done in the past.
ASSEMBLIES 
Working with large groups of students, I'll talk about my life as a writer. Younger audiences usually have a stronger interest in my picture book, BLUE on BLUE. Older audiences are often curious about the collaboration of author, illustrator, editor, art director and the process of creating a book from story idea to draft, revision to publication. 
While this program varies depending on the age of the participating students, its ultimate goal remains the same: each one of us has a story to share in a voice uniquely our own. Sharing these stories is a privilege and as much a gift to oneself as to those who read or hear them. 
WORKSHOPS
Workshops are appropriate for class-sized or small groups of creative writers, and are adjusted according to the grade level of students. Below is a sampling of the types of workshops I've done in the past:
Poem-Making: In this hands-on workshop, we'll talk about some of the specific features of poetry and look at a collection of poems about a single subject. We'll collect words and compose out-loud. After a group poetry-writing session, students will begin to write (and share) their own poems. (Grades K-6)  
The Extraordinary Ordinary: In this hands-on workshop, I'll talk about the importance of observation as a "way in" to writing a poem. We'll consider a handful of poems, noticing how the poet describes each subject in a fresh way. Then, we'll study a photo of a familiar creature (a bee or dragonfly, for example) and collect words, looking with a poet's eye to see how the extraordinary often hides within the familiar. We'll begin a class poem together and lead students to write their own. (Grades K-6)
Behind-the-Scenes: In this class or multi-class presentation, I'll talk about my life as a writer and give a candid look inside the creative process from story spark to draft, revision to publication. I'll share an editor's revision notes, an illustrator's preliminary sketch "dummy," initial color proofs, and we'll have a look at the artistic collaboration of author, illustrator, editor, and art director. (Grades K-6)
Piecing a Story Puzzle: In this hands-on workshop, students will learn about the elements of a good story: character and setting, problem and solution, story arc, and the use of appropriate, specific details. We'll share a mentor text and identify the story elements. Students will then innovate on the example to create their own story. Kindergarten and 1st

grade students will write a group story. 2

nd

and 3

rd graders will write their own. (Grades K-3) 
Once a school visit date has been agreed upon, I will provide detailed information that includes an organizational checklist, display materials, and reproducible handouts for teachers and parents.
Many schools include a book-signing. Autographing books for the children I write for is one of the greatest parts of my job. When kids get the chance to meet the author of a book they've read, a special connection is made. They're energized, inspired, and touched with a new appreciation for reading. 
Click HERE to download information and pricing on school assemblies, writing workshops, and professional development opportunities.
Please contact me by email with additional questions or if you would like to discuss the possibility of a visit or event.
Enjoy this fun soundtrack – a reading of BLUE on BLUE by Stephanie M. McCreary, Technology Specialist in Pattonville (MO) School District, and the students of 3C, who accompanied the reading with "body percussion" and rhythm instruments.
SaveSave